Not all corporate law firms are the same, and the best way to find the right fit for you is to experience it for yourself. Your time with us gives you the opportunity to see if you'll thrive here, and our intern and summer clerk programmes have been designed with that purpose in mind. Our intern, summer clerk and graduate programmes are critical to our firm's success. We recognise that every one of our lawyers, including the most junior members of our team, are an important part of our firm's future.
At MinterEllisonRuddWatts we are not looking for people to fit a particular mould. Academic results are just one piece of the puzzle, and we recognise the strength that diversity brings to a team. Work experience, life experience, extra-curricular activities, sporting participation, music and the arts, and travel are all important criteria to us. We want you to bring your whole self to work – individual strengths and diversity is what builds our teams to be so successful.
For our firm, an outstanding applicant will have a passion for excellence, enjoy working collaboratively and being part of a high-performing team and be confident in their responses. They need to have considered their own business acumen and be able to provide real life examples to the questions asked throughout the application process. They will also show a strong desire to get to know our business and our people.
Get ahead of the pack
Our intern programme has been designed to give Auckland-based law students the opportunity to gain practical, paid legal work experience in our Auckland office during the academic year (March – September).
Our intern programme is available to law students at Auckland University or AUT, who (at the time of applying) have completed at  least two of their second year law papers.
Our interns tell us that gaining practical experience in a large corporate law firm is invaluable and helps them understand the relevance of what they are learning at law school and what future career options are available to them.
Our teams love having their interns join them each week and enjoy teaching them about their practice areas and clients.
Most interns work one full day, or two half days, each week but we are flexible and can fit in around your University timetable and commitments.
Our interns will also summer clerk with us the following summer so interning is the perfect way to launch your legal career.
You will join a team in one of our core practice areas and be supported by a junior lawyer (who we call your 'buddy') throughout the programme.  One of our market leading partners in your team will work with you to plan your work and act as a mentor.
The experience you gain while interning at MinterEllisonRuddWatts will put you ahead of other law graduates.  While interning with us you may be meeting with clients, attending court hearings, observing ground-breaking commercial deals as they unfold and drafting legal documents and advice to clients – as well as attending our professional development and training programme.
Important dates
Applications open in September each year for intern positions in the following academic year
Applications open: early September
Applications close: late September
Interviews held: early October
Offers made: October
Intern programme starts: March
Intern programme ends: September
Summer clerk programme starts: November
With our programme, you'll have real opportunities
Law students can apply for our summer clerk programme in March of their penultimate year of study. Occasionally we may offer positions to students earlier in their studies.
Our summer clerk programme gives law students from all over New Zealand the chance to spend their summer break from University learning what life is like inside a top tier corporate law firm. Not only does this give you the chance to experience what it feels like to be a practising lawyer and do real work for clients, but it also gives you the opportunity to learn about our clients, our business and our unique culture. You will also meet other law students from around the country, expand your networks and make some great new friends along the way.
Before…
We work closely with our successful candidates to identify areas of the law they are passionate about and find out which teams they would like to work with over the summer. Our goal is to ensure you gain broad experiences in practice areas within our five divisions – and in teams that match your interests and career goals.
During…
Successful candidates get the opportunity to experience real legal work during their summer clerkship, and are provided with a supervising partner and a buddy (who is a junior lawyer).
Our programme begins with a fast-track induction into law and our firm, giving you all the tools you need for a successful summer with us. We will offer you challenging and exciting work, support and mentorship, as well as many opportunities for professional and personal growth – all while you are developing new networks and friendships.
Our summer clerks are an important part of the team in our Auckland and Wellington offices – helping on major deals, being involved in court cases, going to client meetings, attending team training sessions and taking part in firm functions.  A number of our summer clerks also experience a week's client secondment during their time with us.
After…
Our law clerk programme is designed to be flexible to suit the individual, their level of experience, and their career aspirations. We can be flexible with your start date so that you can complete your University studies at your own pace. Our summer clerks can fast-track their full time career in five core practice areas – aligning with their career objectives.
Important dates
Applications open: early March
Applications close: late March
Interviews: April / May
Summer clerk programme starts: mid-November
Summer clerk programme ends: mid-February
Kick start your career
MinterEllisonRuddWatts seeks the very best law graduates to join our firm as law clerks in January (or July) each year.  While a number will have interned or summer clerked with us previously, we also look for well-rounded graduates who have excelled in their law degree and have a passion to be the best in the business.
Joining our team in either our Auckland or Wellington offices, you will get the vital building blocks for launching your career while working alongside internationally recognised lawyers.  You will be advising on some of the country's most challenging and interesting legal work, while enjoying a unique team culture that sets our firm apart.
Graduate development programme
Our comprehensive and supportive graduate development programme helps you transition from law student to legal professional. Our law clerks receive:
a two-year graduate focused professional development programme
division-based training focused on technical areas of expertise
a buddy and supervising partner to support and mentor
access to world-class resources
secondment opportunities with clients and in our international offices
access to the firm's well-being programme
access to our award-winning mentoring programme offering support to build professional networks
Becoming a solicitor
After graduating from law school, the next exciting step is being admitted.  We make this easy for you by organising your Professionals course and admission, and covering all costs.
We'll take care of all the details and, on the day of your admission, organise a firm function to celebrate this important career milestone with your family and friends. This admission celebration is one of the most important events in our firm's annual calendar.
Accelerate your knowledge, skills and networks
If you're looking for a rewarding career with ongoing opportunities for development, with expert mentors and coaches to guide you, there's no better place than MinterEllisonRuddWatts to learn and grow.
At MinterEllisonRuddWatts we are focused on helping you to be the best you can be. The start of your career requires a huge amount of learning as you switch from study to the workplace. In your first week you will be part of a firm-wide induction programme, connecting you with your peers and people at all levels across our divisions. You'll learn about our firm's history and unique culture, market strategy and key initiatives (including our innovation forum). You'll have a range of training sessions covering the information, skills and resources you'll need on the job and will also learn how we will support your development.
In your first 18 months, our DevelopME programme will see you participating in sessions to build your legal knowledge, technical skills, personal leadership and interpersonal skills, professional expertise and well-being. Your development will continue throughout your career at our firm. You'll also have a mentor and buddy to support and guide you along the way.
While technical expertise is incredibly important to our lawyers, we are mindful of the many important qualities that make a "T-shaped lawyer" and that help us achieve our firm purpose and vision. We recognise the three key areas of leadership – being a technical expert and market leader; demonstrating personal and people leadership; and understanding the business of law. You will have ongoing opportunities to demonstrate and grow your leadership potential – learning skills which will be valuable wherever your career takes you.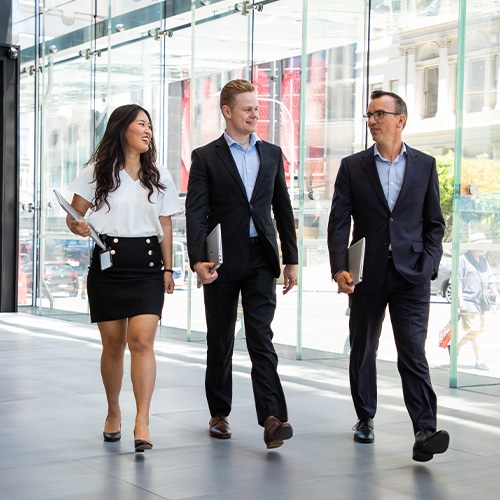 Our DevelopME programme also includes training and tools to help you build resources in three key areas of well-being: mental, physical and financial. For example, we know it's an exciting time when you leave University and start earning a regular income. Some of the decisions we make early in our working life can hugely benefit your future financial well-being. So as part of our training programme we run financial well-being training sessions to give you the information and tools to make informed financial decisions to help you reach your financial goals as quickly as possible.
Our mental health programmes, support networks and initiatives are designed to help you set up and maintain good habits to support total wellbeing for now and the future. Our team's mental wellbeing has always been very important to us but is an area that we have been very focussed on recently given the challenges everyone has faced with the current pandemic. We also know how important it is to bring your whole self to work and recognise that this enables our people to be the very best they can be.